The difference between B2B and B2C is huge, but only if you notice the little & minute things that make the difference. To start with, there are some factors to take into consideration.
In today's dynamic world, as an eCommerce player, driving sales on your platforms and churning out higher revenues, mandates a clear-cut focus on your customers. And that's not as straight forward as you might think! To be honest, there are two facets to your target audience.
On one side, there is the business-to-consumer (B2C) setup, where the "consumer" is the target who buys products/services directly from the business. On the other side, there is the business-to-business (B2B) setup, where one business sells to another, which in turn sells to the consumers.
1. The Homepage is What Sets the First Impression Right
B2C: The ultimate aim of B2C websites is to attract visitors who can then be converted into customers. For that, a much-thought-about strategy needs to fall into place that speaks in favor of users.
The features of B2C eCommerce homepage should include:
Highlights running sales & valid discounts
Running carousels for different trending products
Simple "clickable buttons" to product pages
B2B: The ultimate motive of the B2B eCommerce platform is to attract other businesses who can, in turn, form a long term alliance with them. The main focus is on solving business problems.
A B2B homepage should include:
Focuses on demonstrating a demo in the center
Running carousels that represent products with core features
A "Why Choose Us" section to trigger the target audience's decision
2. Customer Support at Different Stages of the Interaction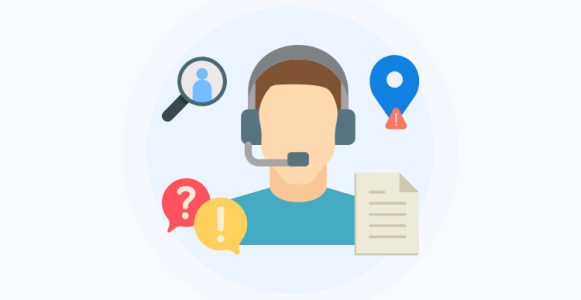 B2C: The end-user does not have much to invest when making a purchase online. Their decision is self-driven without being answerable to anyone. Customer service is essential in B2C eCommerce as well.
Major elements that B2C eCommerce development efforts should include:
A 24/7 customer support to answer the common queries
A post-sales system that handles the returns/complaints/exchanges
Availability of self-service or a knowledge management portal
B2B: In B2B business platforms, larger orders are involved. Talking physiologically, a business investing a larger part of their resources need to be well-informed.
Major elements that B2B eCommerce developer should include:
A 24/7 customer service to answer the business queries
Live chats and video chats to answer business-oriented FAQs
After-Sale customer care that handles reorders and concerns
3. Measuring the Complexity of the Checkout Process


B2C: The last step of any transaction is the checkout process. In a B2C setup, the flow is simple, i.e., smoothly navigating a customer from "Add to Cart" to "Thank you for placing the order."
Major elements that a B2C checkout should include:
Include as few steps as possible so to help customers stay on track
Include all the payment options, i.e., credit cards, debit cards, wallets, CODs
The "Apply Coupon" section should be a prominent part of the checkout interface
B2B: In the B2B model in eCommerce, the checkout process should be an amalgamated version of automated pre-programmed checkout steps and live human assistance.
Major elements that help figure out the difference between B2B and B2C checkout should include:
Demos, phone calls, and video chats should be an active part of the checkout process
Payment options such as pay on credit, procurement punchout, credit cards, ACH payments, and even paying through cryptocurrencies should be made possible
A one-click reordering system can be the best feature of all
4. Informational Assets to Keep the Target Groups Involved
B2C: An end user who is buying a product for personal use is the target here. Though the target audience here does not need to have an insight into the factual data, they still need to stay updated as transparency of information is a major parameter that instigates purchases.
Major elements that B2C informative assets should include:
Product availability and delivery information
The price and discount based information should be communicated on the go
The details of the products in the form of features and related pictures
B2B: Getting a lead and nurturing it till it gets converted is the aim of any B2B business. And, that is why having effective informative assets in place is essential to guide the lead through.
Major elements that a B2B eCommerce developer should focus on:
Explainer videos & demos that highlight the main features of the products/services
Links to download white papers and eBooks that showcases the details solutions that the products/services offers
Raw sheets and data that talk about the stats and figures related to the product/services
5. The Catalog & Pricing Model Differs at Various Levels
B2C: In a B2C eCommerce platform, the pricing is consistent across the catalog without being bias to any target group. The only variance in the pricing model comes in the form of first-time purchase offers, discount coupons, seasonal sales, and clearance sales.
Basic features for a successful B2C website:
Maintain transparency when communicating the price on the product page and the shopping cart
All the discounts and offers should be listed along with the underlining T&C.
B2B: If the difference between B2B and B2C is analyzed, a B2B eCommerce business happens to offer a personalized shopping experience to its customers for they need to keep them engaged over a long time. That is why; B2B eCommerce platforms rely on special pricing based on quantity, volume, and frequency of orders made.
Basic features for adjusting a dynamic pricing model:
Work on offering a customer-specific product catalog
Focus on listing a completely personalized product inventory for larger clients
6. Abiding By the Minimum/Maximum Order Quantity Norm
B2C: There is no minimum order quantity parameter that needs to be taken into account when placing an order on a B2C eCommerce platform. However, there is this maximum order quantity that comes into play in retail eCommerce websites.
Requirements for designing MOQ for a B2C platform:
Set a parameter for "Maximum order quantity" per product
Generate an alert message once the order quantity exceeds the set quantity
B2B: Minimum order quantity (MOQ) is the main requirement that any B2B eCommerce platform needs to cover. Because placing a "single item" order is simply not allowed in this wholesale oriented business.
Requirements for designing MOQ for a B2B platform:
Set a parameter for "Minimum order quantity" per product
Include "Minimum order amount" parameter required to complete an order
Set quantity multiple requirements for products sold in packages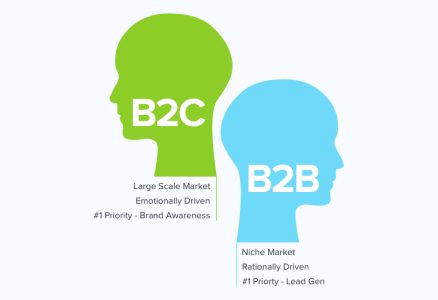 7.Having an understanding of the Buyer's Psychology
B2C: A buyer who is purchasing on an individual basis is independent enough to make his own decisions. They are the masters of their own decisions where they do not have to seek permission to make a purchase.
What to consider while designing for a B2C buyer:
Keep the product/services features to-the-point
Do mention discount offers running on individual products to quicken the buying process
B2B: Here the buyer is a sales representative of a business! But, the decision to buy does not depend on that individual alone. There are multiple parties involved: product/service users and the decision-makers of the business.
What to consider while designing for a B2B buyer:
Focus on listing detailed descriptions of the products/services that you are selling
eBooks, user manuals, and genuine client reviews would help make a well-thought-of decision